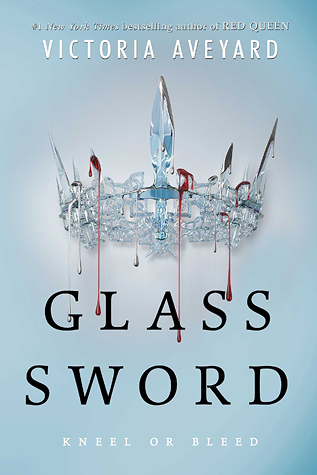 Glass Sword
Red Queen #2


Author: Victoria Aveyard


Publication Date: February 9, 2016


Publisher:
Harper Teen
Genre: YA/Dystopia


---
Synopsis:
If there's one thing Mare Barrow knows, it's that she's different.

Mare Barrow's blood is red—the color of common folk—but her Silver ability, the power to control lightning, has turned her into a weapon that the royal court tries to control.

The crown calls her an impossibility, a fake, but as she makes her escape from Maven, the prince—the friend—who betrayed her, Mare uncovers something startling: she is not the only one of her kind.

Pursued by Maven, now a vindictive king, Mare sets out to find and recruit other Red-and-Silver fighters to join in the struggle against her oppressors.

But Mare finds herself on a deadly path, at risk of becoming exactly the kind of monster she is trying to defeat.

Will she shatter under the weight of the lives that are the cost of rebellion? Or have treachery and betrayal hardened her forever?

The electrifying next installment in the Red Queen series escalates the struggle between the growing rebel army and the blood-segregated world they've always known—and pits Mare against the darkness that has grown in her soul.
My Thoughts:
First, I want to say that I love this series. Neither of the books went where I expected them to and this one certainly lived up to the high expectations that the first one set!
We pick up
Glass Sword
where
Red Queen
left off. Mare and Cal are tired and shattered from the events at the end of
Red Queen
and are just trying to survive at this point. Both seem to be looking for a purpose and neither one want to stop and take a breather, or rest.
Mare, I feel, really steps it up in this book. She really is stuck between a rock and a hard place for most of the tough decisions she has to make. Unlike Cal, she was never trained to be thrust into a leadership position and this is where she unexpectedly finds herself. All of her moves, all of her decisions and non-decisions are questioned and scrutinized and I feel that in the middle of the book she just kind of loses herself. I honestly don't blame her.
Cal feels like a lost floater sometimes. He always had a clear path of who he was, what he was, what was expected of him and where he was headed. Now that all of that has been ripped away from him and he is on the run with people he formerly saw as the enemy seems to have caught him up. Luckily, he doesn't stay that way completely.
I have to say, there is a lot less romance and a lot more action in this book than the previous, which is to be expected. In the first book, it was all about political intrigue and palace life. How best to save people and still work within the confines of the castle. Now, to put it blunt, all hell has broken loose. Cal and Mare are constantly looking over their shoulders while at the same time trying to save people like Mare, regular Reds and even Silvers.
This book was fast paced and awesome. The cliffhanger ending (much like the first book) was awe-dropping and not at all what I would have expected. I am eagerly waiting at the edge of my seat for the next book - it can't come quick enough!