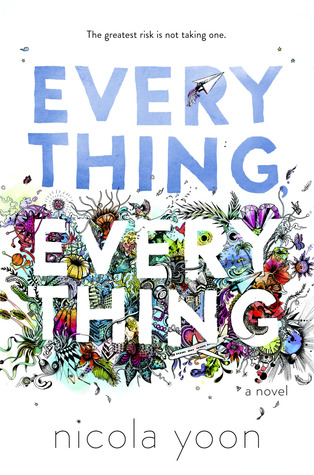 Everything, Everything


Author: Nicola Yoon


Publication Date: September 1, 2015


Publisher:
Delacourte Books for Young Readers
Genre: Young Adult/Contemporary


---
Synopsis:
My disease is as rare as it is famous. Basically, I'm allergic to the world. I don't leave my house, have not left my house in seventeen years. The only people I ever see are my mom and my nurse, Carla.
But then one day, a moving truck arrives next door. I look out my window, and I see him. He's tall, lean and wearing all black—black T-shirt, black jeans, black sneakers, and a black knit cap that covers his hair completely. He catches me looking and stares at me. I stare right back. His name is Olly.
Maybe we can't predict the future, but we can predict some things. For example, I am certainly going to fall in love with Olly. It's almost certainly going to be a disaster.
My Thoughts:
This was a book I picked up for my monthly local book club meeting that Jenn and I started a few months back. Normally, despite the amazing cover, I probably wouldn't have bothered. I mean, how much could I really read about a "bubble kid" (an immuno-compromised teenager who is living in constant state of quarantine). Luckily, however, the book club forced this book into my hands and I read it in only four hours. It's a fast read, but a good one!
Madeline lives in a world of white. White walls, white clothes, white everything. Well, everything except her books where she lives her life. She has SCID, a rare disease that means she is allergic to, well, pretty much everything. The only outside contact she gets (other than via the internet) is with her mother and her nurse Carla. That is, until, Olly moves next door.
Madeline hasn't had neighbours in what I could only guess has been years. She makes it her priority to know what they are doing. I likened it to watching reality tv, only on her neighbours. It seems weird and kind of creepy, but when you put it into context of how little human interaction this girl has had in her life and that it is innocent then I though it was just kind of quirky.
Olly notices Madeline watching him from her window and immediately tries to make contact, not realizing the girl from the window next door is incredibly sick. But it doesn't matter.
Oh boy, did this book throw out some fast ones on me. It did have a few predictable moments but at about half way through it had me hook, line and sinker. Not only with the untraditional way the novel was written and set up (both with illustrations, IM messages and emails which all added to the charm) but because I genuinely fell for the characters.
This book would have gotten a solid five owls from me if I hadn't felt like the ended wasn't a bit rushed. There was some issues with Maddy's Mom that I felt were left unresolved but I was okay with that, given the nature of problems and mothers in real life. I just wanted to see a more flushed out resolution with Maddy and Olly. But, the ending was still satisfying and left me smiling. I would definitely recommend this book to people!