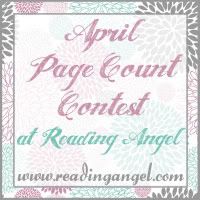 How do I get encouraged to read a lot each month? I try to find some type of contest or meme that has me suck in books. I have 11 books on my TBR for April (so far). It will be nice to see how many of them I can get done! I suppose you are wondering about the details for this contest, well here you go.
Here's how it will work-
Each week this month I will post a google doc where you submit each book you read as you finish it, including your name, email, book title, author, page count, and a brief sentence telling me whether or not you recommend the book.

At the end of each week I will post a Top 10 or Top 20 for THAT week (depending on how many people sign up) with the new google doc.

At the end of the month I will post the Top 10 or Top 20 OVERALL.
3 Winners will get either a $15 dollar Amazon GC, or a $15 book of your choice from book depository

The OVERALL top page count reader will receive one prize

One RANDOM winner from the OVERALL Top 20 readers will win one prize

One RANDOM winner from ALL 4 WEEKS lists of Top 20 readers will win one prize (that means you only have to be on the list for one week to be entered in the giveaway!)
The Nuts and Bolts
I know that some books have larger font and less words on pages, but there's nothing to be done about that. It all just kinda works out in the end. Just read what you normally read.

There is nothing I can do to PROVE that people are reading what they say they are reading. We are working on the honor system here people.

What books count? Any adult, or YA book - fiction or non-fiction. NO children's books, NO picture books.

Must be 13 or older to enter

Must be able to receive books from book depository or amazon GCs to enter giveaway
Thank you
Reading Angel
for hosting this!
Time to get reading!