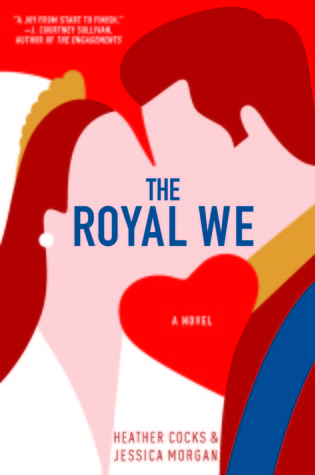 The Royal We


Author: Heather Cocks & Jessica Morgan


Publication Date: April 7, 2015


Publisher:
Grand Central Publishing
Genre: New Adult/Contemporary Romance


---
Synopsis:
"I might be Cinderella today, but I dread who they'll think I am tomorrow. I guess it depends on what I do next."
American Rebecca Porter was never one for fairy tales. Her twin sister, Lacey, has always been the romantic who fantasized about glamour and royalty, fame and fortune. Yet it's Bex who seeks adventure at Oxford and finds herself living down the hall from Prince Nicholas, Great Britain's future king. And when Bex can't resist falling for Nick, the person behind the prince, it propels her into a world she did not expect to inhabit, under a spotlight she is not prepared to face.
Dating Nick immerses Bex in ritzy society, dazzling ski trips, and dinners at Kensington Palace with him and his charming, troublesome brother, Freddie. But the relationship also comes with unimaginable baggage: hysterical tabloids, Nick's sparkling and far more suitable ex-girlfriends, and a royal family whose private life is much thornier and more tragic than anyone on the outside knows. The pressures are almost too much to bear, as Bex struggles to reconcile the man she loves with the monarch he's fated to become.
Which is how she gets into trouble.
Now, on the eve of the wedding of the century, Bex is faced with whether everything she's sacrificed for love-her career, her home, her family, maybe even herself-will have been for nothing.
My Thoughts:
I enjoyed this book a lot more than I initially thought I would. Some have toted it as a glorified fan-fiction of Kate and Will, but I honestly don't care. There were a lot of similarities between Bex and Nick and Prince William and Duchess Catherine's stories - that's for sure. However, I thoroughly enjoyed the book regardless.
Rebecca Porter, or Bex, was just a regular American college student on a study abroad term to Oxford. She only wanted to go and enjoy the art, to take in the architecture and have fun in the UK. She wasn't looking for romance, and she certainly wasn't aiming to find love with the second in line to the throne.
I love that we get to follow their eight-year romance to the alter. We get to see the highs and the lows and friends come and go. Sometimes, I found myself stopping and remembering how their romance started and drawing lines on how the young 20 year olds with a brand new love story became 26 or 27 with all of these new responsibilities and stresses. In that way, I was glad we got to see the whole span, which we very rarely get in books.
Neither of the main characters is anywhere near perfect (nor the side characters) and I think that is what I loved the most about this book. We get to see them both do very well and mess up spectacularly throughout their relationship. This book broke my heart in more than one spot and had me almost yelling at both or either Bex and Nick on more than one occasion.
The ending did leave me wanting a little more. I felt it ended a little abrupt and would have liked to see a nice epilogue from two years later, even if it was just a quick snapshot of their life. But that certainly did not dissuade me from rating this 5 stars/owls.
So, whether you feel this is some sort of fan-fiction on Wills and Kate or not, this book was an excellent read for me. I hated when I had to put the book down for something. If you are fascinated by all things royal or you just love a good love story I would definitely recommend this one.